Coven Discount until the New Year!
From Black Friday until the last minute of 2023 all Tiers of our Coven are just $3! - Come in, take a look around, and we hope you stick around and enjoy all the Coven has to offer 💜
Let customers speak for us
Sky Clad Coven Exclusive Content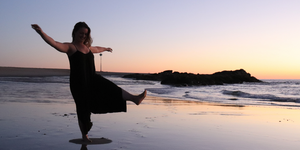 About Us
Sky Clad Apothecary exists to facilitate the natural intersection of Zero Waste and Witchcraft. Our inventory is constantly expanding so please come back again soon! Our DMs are open for product requests and we have so many exciting plans already in the works.
Owner Lindsey Granger
As owner and Head Witch, I brings an eclectic knowledge and passion for excellence to all my workings and creations.
My entrepreneurial career is influenced by my ADHD, witchcraft practice, love for beauty and efficiency, and a deep need for self expression. Business ownership offers freedom to look, dress, work, and create authentically and offers community building opportunity for likeminded folks.
I aquired my dual bachelor degrees in Nutrition and Biostatistics in 2016, giving me a keen understanding of chemistry, biology, and the frustrating difference between the scientific method and a statistical analysis. Concurrenly with my college education I acquired my 200hr YTT Certificate, Thai Massage Training, and started my first business. My formal education began my independent inquiry into personal care ingredients and making personalized products.
Making your own personal care products is the gateway to practicing a Zero Waste lifestyle, which I dove into head first. Practicing Zero Waste offered me unexpected relief from ADHD symptoms - specifically reducing decision fatigue, clutter related brain fog, and impulse buying. After a year or two of practicing diligently, I came into conflict with my neurodivergent brain's need for dopamine in order to function, creating turmoil as I craved fashion, makup, lavish furnishings and beauty. I struggled with my Zero Waste practice and the high prices of things that were both beautiful, high quality, and Zero Waste.
Sky Clad Apothecary was born from the desire to create affordable, beautiful, functional, Zero Waste products.